I'm thrilled to say that Free, Fair and Alive: The Insurgent Power of the Commons – the book I've been working on for the past three years with my long-time colleague Silke Helfrich – is published today. The book is our ambitious attempt to synthesize what we've learned from scores of commons around the world over the past twenty years.
The book is wide-ranging in its analysis of the power of commoning, but it focuses on the internal social and interpersonal dynamics of commoning; how the commons worldview opens up new possibilities for change; and the role of language in reorienting our perceptions and political strategies.
To dip into the book, check out the Contents page and Introduction. We will be posting new chapters every few weeks.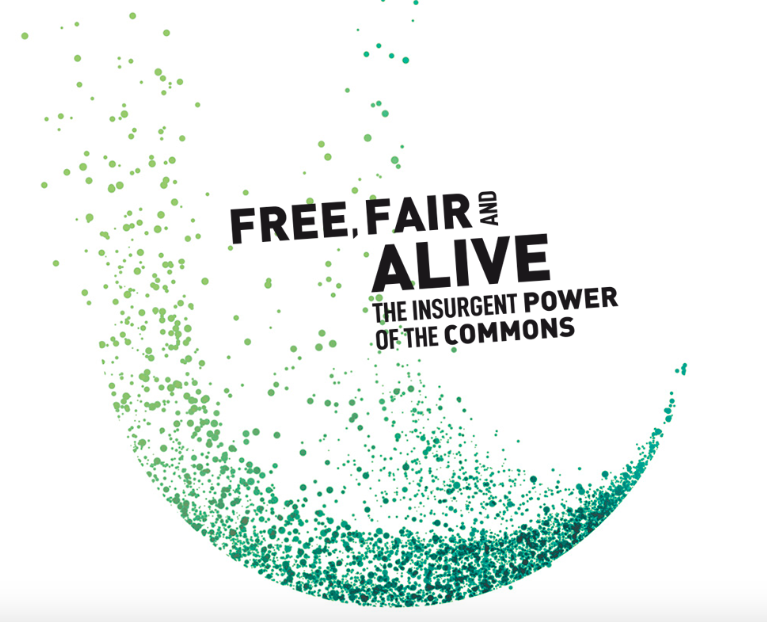 Next week I'm embarking on a tour in Europe and UK with Silke to engage a number of audiences with the themes of the book. You can check out our appearances on the right of this webpage, or on the Free, Fair and Alive website at www.freefairandalive.org.
Our book is a foundational reconceptualization of the commons as a living social system. Instead of regarding commons as resources, in the style of standard economics and Garrett Hardin's "tragedy of the commons" essay, we show that commons are in fact dynamic, living social processes. (That's why economists can't see them!) They rely on a whole set of human values and behaviors that the standard economic narrative regards as marginal. Our book is a rare inquiry into commoning – the verb, the social practices, the moral relationships – which is quite different from the commons -- the noun, as resources and their exchange value.  
The further Silke and I got into studying and rethinking the commons as a concept, the more that we realized that prevailing categories of thought are simply too reductionist to capture what is really going on within commons. For example, standard economics, property law, and policy assume the reality of rational, autonomous individuals, as reflected in the idea of homo economicus, the philosophy of modern liberalism, and the presumed separation of humanity and "nature."