Critiquing problems is far easier than imagining credible alternative futures.  That seems to be the biggest problem in our political culture today:  a colossal failure of imagination.  I was therefore pleased when a new friend introduced me to the writings of David Fleming, an iconoclastic British thinker about economics, the environment, and culture who had roots in the British Green Party and Transition Town movement, among other circles.
Fleming worked for thirty years to produce a massive book Lean Logic: A Dictionary for the Future and How to Survive It, which was finished just before his death in 2010 and published by Chelsea Green in 2016.  Many core themes of that book were skillfully distilled (by his colleague Shaun Chamberlin) into a shorter, more readable paperback, Surviving the Future: Culture, Carnival and Capital in the Aftermath of the Market Economy.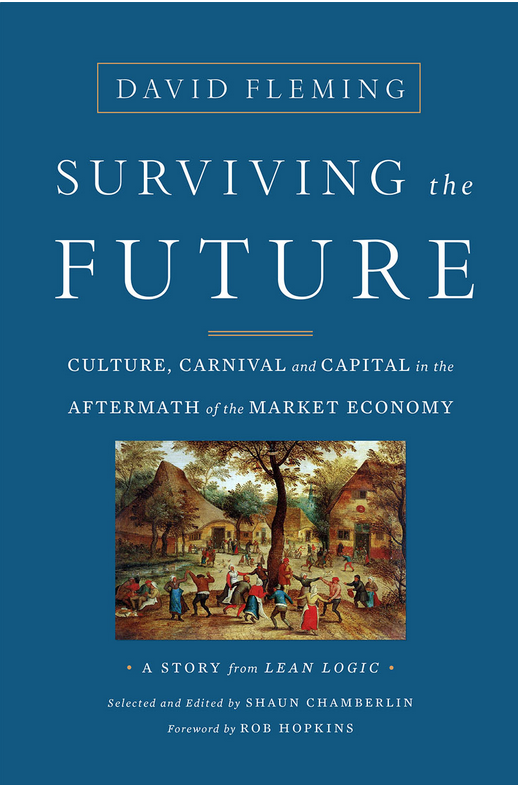 Fleming, one of the earliest to warn about Peak Oil, argues about the decline of the market economy with the rigor of an economist, ecologist and physicist.  But what really sets him apart is his  understanding that those things are intimately related to social organization and human culture.  He realizes that the needs and wants engendered by capitalism will inevitably change as a society kept afloat by cheap fossil fuels falls apart. 
What will society look like in the aftermath of this world?  Fleming believes that we will rediscover and invent a life of place and play – a world in which the traditions of carnival, gift culture and a sense of place re-emerge.  The post-market culture will also be a place where small-scale, local activities make sense again.  Once large infrastructures become too costly to maintain, we will likely build systems that restore elegance and beauty to a place of honor, and that honors local judgment and direct participation in one's life.