You are not likely to encounter a more welcoming set of texts and infographics to introduce the commons and peer production than the Commons Transition Primer website.
The new site features four types of materials suited different levels of interest: short Q&A-style articles with illustrations; longer, in-depth articles for the more serious reader; a library of downloaded PDF versions of research publications by the P2P Foundation; and a collection of videos, audio interviews and links to other content. 
The website does a great service in introducing topics that are sometimes elusive or abstract, giving them a solid explanation and lots of working examples. Go check it out!
Start with a series of Short Articles that addresses such questions as "What is a commons transition?" and "What is distributed manufacturing?" Then browse the Longer Articles section and read "10 ways to accelerate the Peer to Peer and Commons Economy," a visionary piece on the movement to design global and manufacture locally.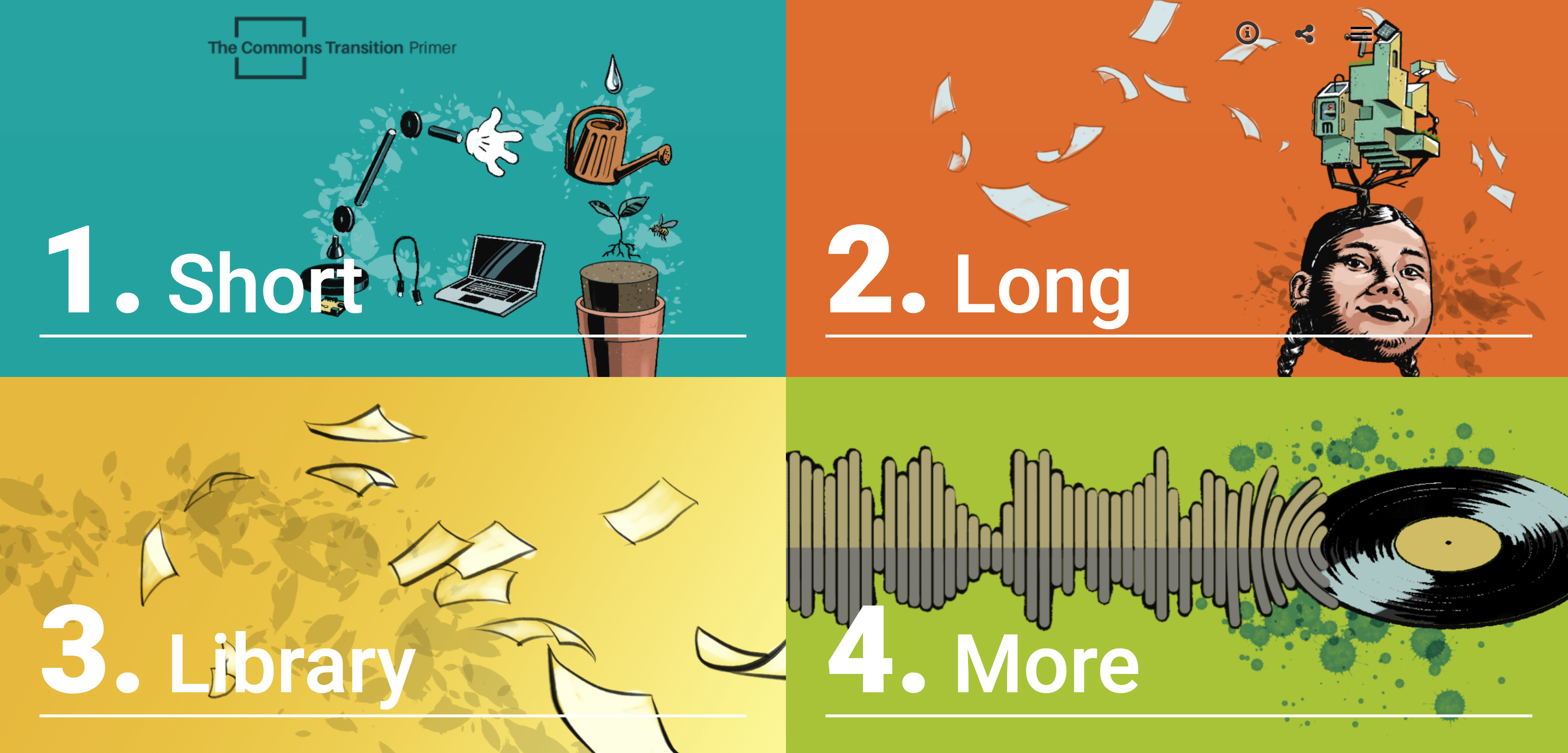 The Library contains a number of major reports on how to embark upon a commons transition. The organizational study of Catalan Integral Cooperative as a post-capitalist model is fascinating. Check out the new conceptualizations of value in a commons economy, and the two-part report on the impact of peer production on energy use, thermodynamics, and the natural world. 
There is also a wonderful overview of some leading commons, especially tech-oriented ones, in a collection of fifteen case studies. These explore such projects as Wikihouse, Farm Hack, L'Atelier Paysan, Mutual Aid Networks, Spain's Municipalist Coalitions, and the Ghent's urban commons (in Belgium).
Elena Martinez Vicente has produced a number of fantastic infographics that really help demystify some abstract ideas (the new ecosystem of value creation, patterns of open coops, cosmo-local production). Mercè Moreno Tarrés did the dazzling original art for the site, which helps make the material so engaging.  
The Commons Transition Primer was produced by the Peer to Peer Foundation and P2P Labs with support from the Heinrich Boell Foundation. Kudos to Stacco Troncoso and Ann Marie Utratel for conceptualizing the project and preparing much of the material, and to Michel Bauwens and Vasilis Kostakis for their contributions to the text.