One of the more spirited lines of research and action for building a post-capitalist future these days is coming from two related networks of international scholars -- the Community Economies Institute and an associated group, the Community Economies Research Network (CERN).   
Unlike most academic fields, Community Economies is highly transdisciplinary and socially committed. In fact, it is formally dedicated to "ethical economic practices that acknowledge and act on the interdependence of all life forms, human and nonhuman."
It also rejects some premises of standard economics, highlighting instead the vast amounts of informal, off-the-books work that is not necessarily monetized or intended for the market. This takes many forms, as the Community Economies "iceberg" image (below) helps illustrate.  Even though parenting, community life, care work, gift economies, barter, vernacular culture, and many other form of life are productive and valuable, economists generally dismiss these as trivial or uninteresting. After all, there is no market associated with them and no money changing hands.
To get a better understanding of Community Economies and the work of both CEI and CERN, I recently interviewed Professor Katherine Gibson of the Institute for Culture and Society at Western Sydney University, in Australia, for my Frontiers of Commoning podcast, Episode #13.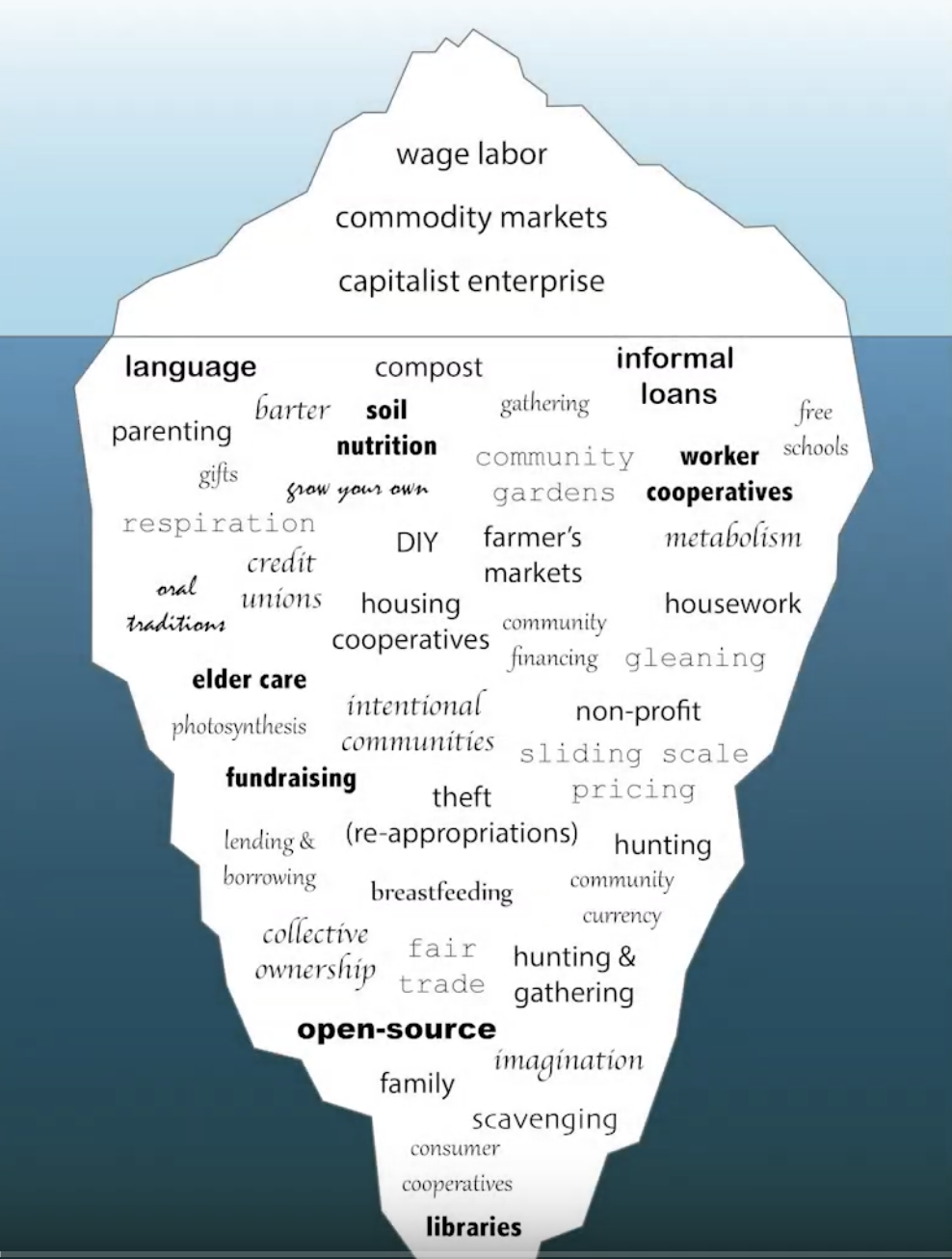 Gibson is famous for developing -- along with Julie Graham, the geography professor at UMass Amherst who died in 2010  – the very idea of "diverse economies." It is meant as a counterpoint to capitalism without being derivative of the capitalist worldview and epistemology.
Under the joint byline J.K. Gibson-Graham, the two wrote such books as The End of Capitalism (As We Knew It): A Feminist Critique of the Political Economy (2006), A Postcapitalist Politics (2006), and Take Bake the Economy (with Jenny Cameron and Stephen Healy) (2013).  
Much of the work of the 300-plus CERN researchers around the world is devoted to bringing "invisible" parts of the economy into the daylight. This consists of treatises on such topics as the Solidarity Economy, degrowth, co-operatives, community finance, local trading systems, underground markets, open source software, and commoning, among other topics.