In the nearly 50 years since the Park Slope Food Co-op Brooklyn opened, it has become both legendary and taken-for-granted. People seem to forget that its success was based on heroic struggle and lots of difficult internal commoning. Many outsiders see a gilded precinct of New York City filled with affluent professionals, not realizing that the Co-op arose from within a funky neighborhood of ordinary people who wanted high-quality, affordable, responsibly produced groceries. And indeed, most of its members are still ordinary, middle-class New Yorkers.
A lengthy piece in The New Yorker magazine (November 25 issue) captures the complicated and colorful history of the Co-op magnificently. "The Grocery Store Where Produce Meets Politics," by Alexandra Schwartz, dives deeply into the inner life of the Co-op and the people who both venerate it and condescend to it. The Park Slope Food Co-op is a landmark achievement of what can be achieved through commoning in a co-operative organizational structure.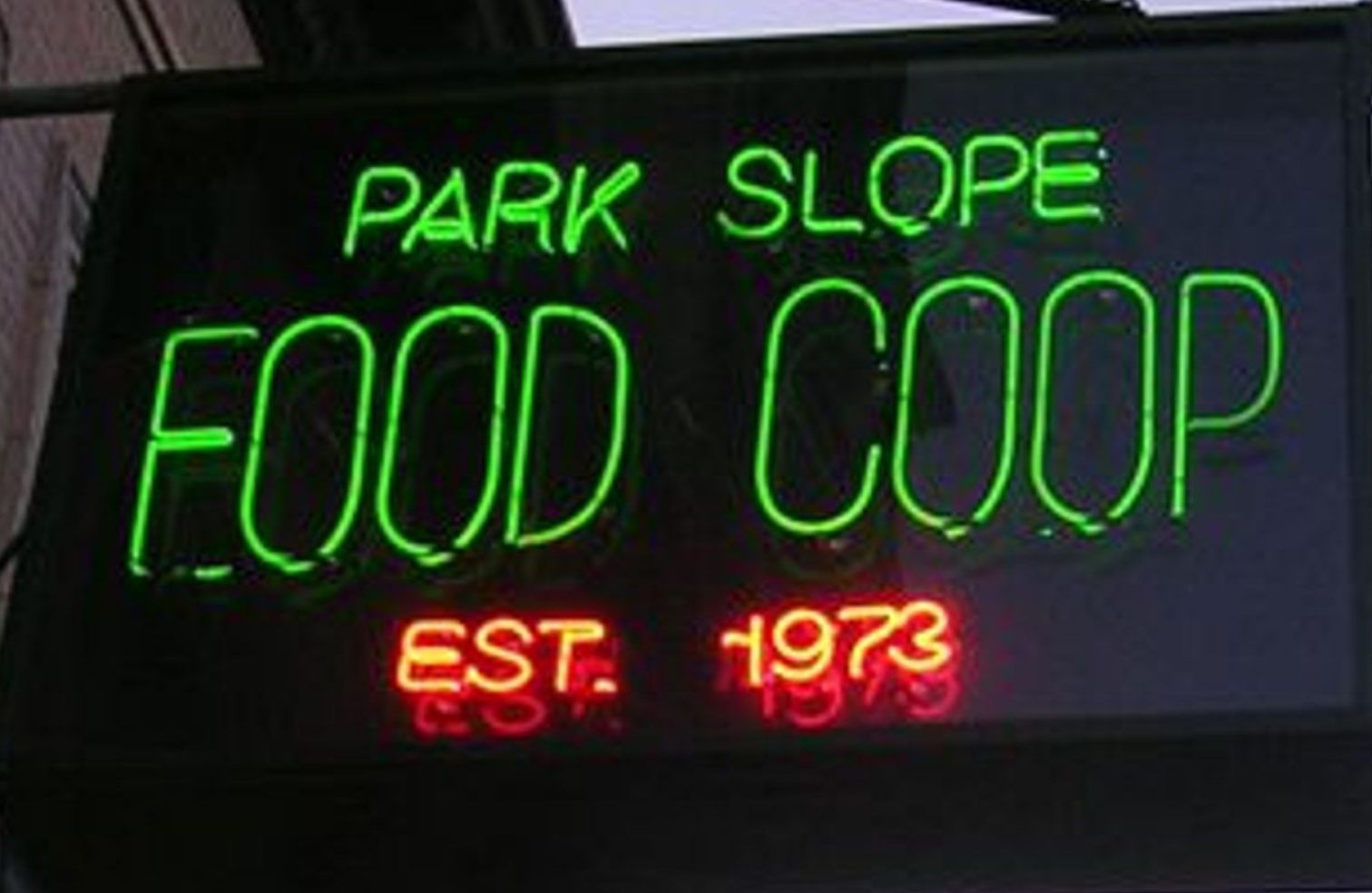 The Co-op's most salient achievement may be its sheer scale. It has more than 17,000 members and annual sales revenues of $58.3 million. Yet it is still run as a participatory, democratically managed operation whose members actively care about eco-friendly agriculture and socially minded practices.
Unlike many co-ops that regard themselves as quasi-corporations competing in the market, perhaps with a nod to social concern, the Park Slope Food Co-op remains unabashedly committed to functioning as a commons. It is a self-help collective, as one of its leaders put it, not a do-gooder project.
In her early encounters with the Co-op, journalist Alexandra Schwartz found it "to be claustrophobically crowded, illogically organized, and almost absurdly inconvenient. In other words, it was love at first sight. Suddenly, on my editorial assistant's salary, I was eating like an editor-in-chief." The Co-op is not a sleek, modernist Whole Foods store with precious upscale touches. It's a place where you can get fantastically fresh local produce, inexpensive cheese, and high-quality expeller-pressed cooking oils. Prices are generally 15% to 50% less than those of a conventional grocery store. 
While popular commercial grocery stores like Trader Joe's make impressive sales of about $2,500 per square foot of retail space, the Park Slope Food Co-op rakes in an astonishing $10,000 per square foot," Schwartz reports. 
But such things are not being driven by market forces; they arise and flourish through group cooperation. Everyone needs to have some skin in the game and abide by the Co-op's rules. One of the most important rules is the requirement that everyone work two hours and forty-five minutes every four weeks. This rule is strictly enforced. If you miss your shift, you have to make it up by working two compensatory shifts. Fall behind too much in your work obligations, and your Co-op privileges may be revoked.
In other words, the Co-op is not just a financial collective that you buy into. It is a personal commitment that you have to take seriously.  You have to commit your personal time and energies to the everyday operation of the Co-op by unloading delivery trucks, cutting up cheese into chunks, cleaning floors and toilets, working the cash register, and taking care of kids in the free child-care room, and so on.
It's the unpaid, decommodified labor of thousands of members that enables the Co-op to function so well:  "The place runs on sweat equity: your blood for bread, your labor for lox," as The New Yorker puts it. The system works because people are not "customers" who have simply bought an equity stake in a company. They are "member-workers" or "shoppers" who personally manage the place (with the help of 70 paid employees).
The Co-op represents what Silke Helfrich and I call "relationalized property" – a "resource" that is not just a hunk of capital designed to produce profit, but a social collective whose personal and social lives are intertwined with the asset.  The Co-op is as much a cultural experience as an economic bargain. People shop in a crowded, no-nonsense space filled with every kind of New Yorker imaginable. They understand the messy complications of peer governance and provisioning.
Schwartz writes: "In the age of one-click delivery, it can seem antediluvian to trudge home with brutally heavy sacks dangling from your shoulders. Still, there's a comfort to bumping up against other humans around food. That's what grocery shopping used to be, before supermarkets: a social, neighborly time, much like the meal to follow." The Co-op experience remains so appealing that many people who have moved to Connecticut or upstate New York continue to come to Brooklyn once a month to shop. 
To be sure, many Co-op members find the political debates about food off-putting:  Should plastic bags for produce be eliminated? Should foods with certain additives be barred from the shelves? Should the Co-op support a move by some paid "coordinators" (employees) to form a union? 
The New York Times has gleefully covered such issues, treating the Co-op "like a rogue nation-state," writes Schwartz. There are complaints that Co-op membership is "a user-friendly way of experiencing the pitfalls of communism….There can be a mania for fetishistic rule-following in the name of fairness, with citizen's arrest-style confrontations that feel more kindergarten bully than protector of the peace."
Annoying as some of these controversies may be, the Co-op has attracted and kept so many dedicated members precisely because it doesn't have the gleaning, sterile aisles and incessant marketing of conventional supermarkets. It is willing to engage with the messy and endearing propensities of real human beings. Schwartz writes that the Co-op's "small-scale errors and outcries and inefficiencies make the place feel organic, in the non-U.S.D.A.-regulated sense of the word: funky around the edges, humanly fermented, alive."  
Which is why it is still a thriving, beloved place after all these years.