As interest grows in making cities more affordable, convivial places for ordinary people, the arrival of The Urban Commons Cookbook is timely. The new book offers "Strategies and Insights for Creating and Maintaining Urban Commons," as the subtitle puts it, and helps make the whole idea of urban commons more accessible. It may even convert readers into commoners! Besides providing a quick introduction to commons as a concept, the book offers eight case studies from around the world and practical advice on how to common.
The Urban Commons Cookbook seeks to answer such questions as: "Which ingredients of a cooperative community project most help it succeed? What are urban commons and how do they fit into current activist and civil society debates? And what tools and methods do commoners need to strengthen their work?"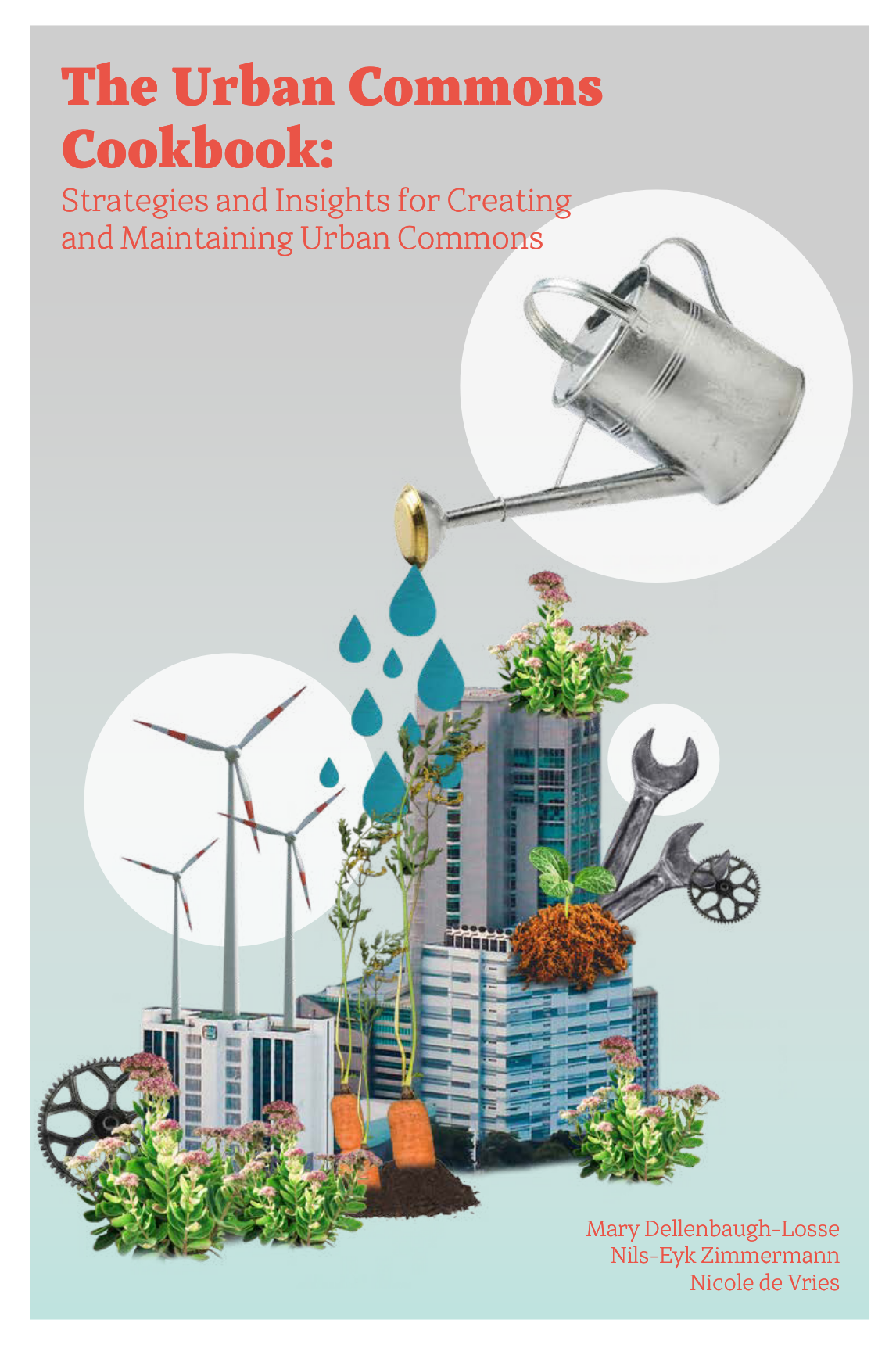 In classic commons fashion, the book was made possible by a crowdfunding campaign on Kickstarter. A big salute to urban researcher Mary Dellenbaugh-Losse and her two collaborators Nls-Eyk Zimmermann and Nicole de Vries of Berlin, Germany, for instigating such a helpful practice-based handbook. Huzzah to Shareable magazine, too, for supporting the publication. (Visit Shareable's website for its considerable literature on urban commons.)
For now, printed versions of the book cannot be quickly obtained in the US and Canada, but Europeans and others can buy them via this link. However, since the book is published under a Creative Commons Attribution-Share Alike 4.0 International License, the authors have made free downloads of PDF versions of the book available from this link.
I appreciated the depth of perspective that The Urban Commons Cookbook provides while focusing on immediate challenges. For example, it explains how the general role of commons in medieval times is not so different from today's role. Under contemporary capitalism as in feudal societies, commons function as self-organized survival mechanisms. Some of the threats to survival come from economic systems (whether emerging or advanced capitalism) while other threats stem from warfare, pandemics or law.
Whatever the source, the authors write, urban commons have (re)emerged as an alternative to state and market, and to the problems caused by enclosures. In our times, the neoliberal policies instigated by the US and other industrialized countries in the 1970s and 80s have been the driving force of enclosure, prompting a resurgence of interest in commons as a way for people to reclaim their lives. 
The authors note that the global financial crisis in 2008 and today's coronavirus pandemic have demonstrated how essential commons remain. The "solidarity, empathy, and collectivity" that they typically mobilize "are precisely what is needed to prevent social isolation and maintain a vital sense of community despite social distancing."
Moreover, commons engender resilience. "Porch food drops and homemade PPE, 3D-printed ventilator parts and crowdsourced solidarity funds…represent a buffer against shocks. Urban commons are at the front line of community needs, once again acting to lessen immediate damage and helping preserve the communities that we have come to rely on so that we are even more resilient next time."
As Dellenbaugh-Losse et al. see it, urban commons projects share four key characteristics:
Resources are managed by the users through a prosocial and participatory process called "commoning."

Projects also focus on a resource's use-value — the practical, everyday value of the resource for its users — instead of treating it as a commodity from which profit can be derived.

Residents address their own perceived desires and co-produce solutions to urban issues that are important to them, from housing to wireless internet.

They rely on intangible resources such as social capital and also actively build these within their communities.
Unlike so many academic works of theory, The Urban Commons Handbook is not afraid to get down-and-dirty with practical advice that ordinary people can use. The book assesses specific methods of participation and peer governance, and of social cooperation and community outreach. It also includes a useful bibliography of literature on urban commons and resources. Check it out!