I am happy to announce the publication of a new anthology that I co-edited with Professor Anna Grear, Professor of Law and Theory at Cardiff University in the UK.  The book is entitled The Great Awakening: New Modes of Life Amidst Capitalist Ruins, released by punctum books last week. 
The book asks the question: As we enter a time of climate catastrophe, worsening inequality, and collapsing market/state systems, can human societies transcend the old, dysfunctional paradigms and build the world anew?
The answer:  There are many signs of hope. In ten different essays, the book dissects the core problems of neoliberal capitalism and showcases some particularly encouraging vectors of transformation.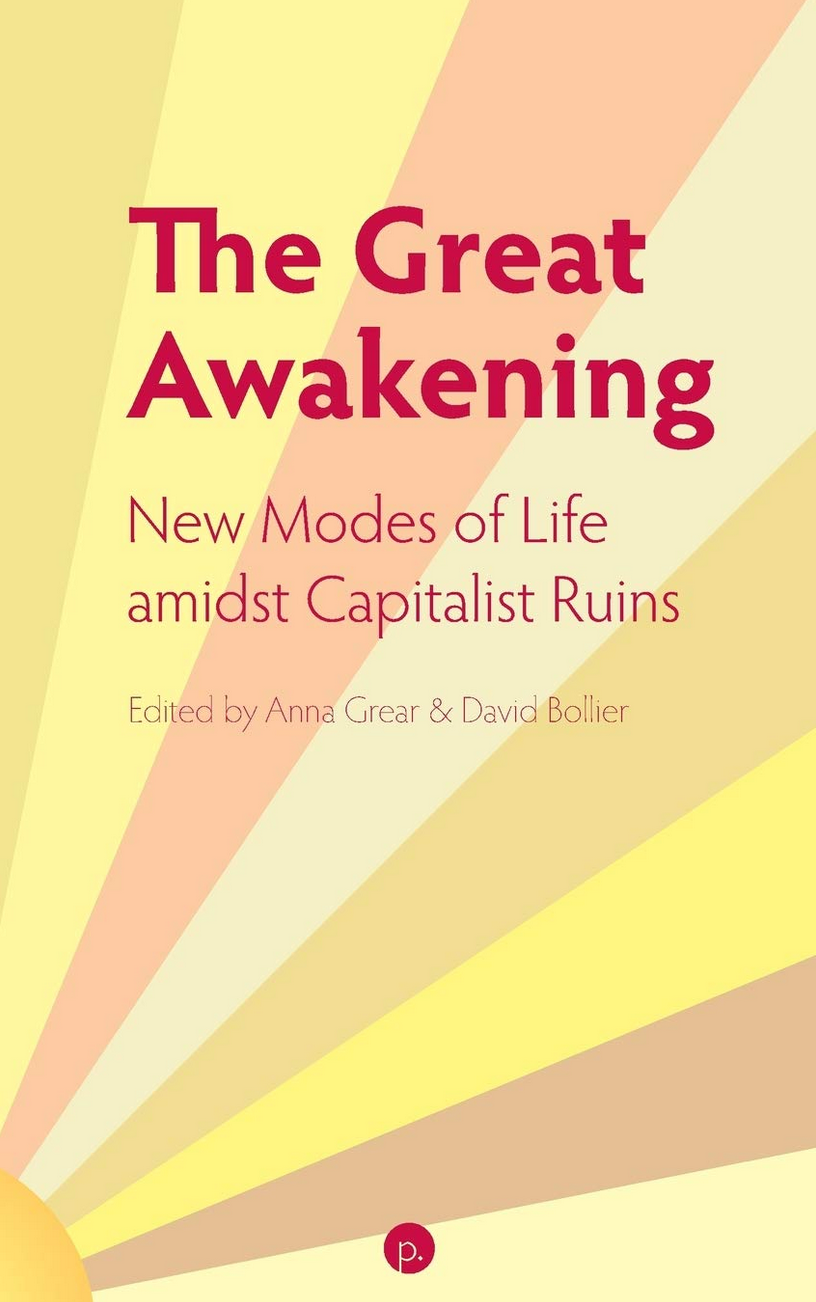 Anna and I want to thank the ten cutting-edge activists, scholars, and change-makers who joined us in producing this book. The authors probe the deep roots of our current predicament while reflecting on the social DNA required to build a post-capitalist future. A golden thread connecting the chapters is the role of commoning in building working utopias with the capacity to protect themselves and grow in a hostile capitalist environment. As Grear and I write in our Introduction:
Basic structures of contemporary life seem to be falling apart, no longer able to contain the chaotic energies unleashed by global capitalism, digital technologies, libertarian market culture, and modernity. One might call it a Great Unraveling. Yet, paradoxically, this period of history might also be called, accurately, the Great Awakening.

There is a growing awareness of the need for a fundamental shift in mindset and culture, as suggested by the youth climate protests of recent times; the rise of progressive politics; and a general sense that the system is broken and needs to be replaced. Amidst the messy unwinding of obsolete paradigms, many sturdy, fresh, and green sprouts of change — marginal, as yet, to the public consciousness — are emerging.
A growing cohort of self-identified commoners, working largely outside the circles of respectable opinion, is developing important new frameworks of thought and innovative tech platforms. Such commoners bring an almost dizzying array of creative approaches to central challenges of human social organization. They are pioneering, for example, creative hacks of law and new sorts of currencies. They are re-imagining regional food systems and systems for keeping agricultural seeds shareable. They are developing new models of peer production such as "cosmo-local production," which lets people share knowledge and design globally, open-source-style, while building physical things locally. Notwithstanding pervasive crises and traumas, it turns out that this is a fertile time to reinvent the world with collaborative initiatives.
The good news is that the social practices of commoning are opening up creative new modes of life. They can sidestep the pathologies of capitalism and generate and share wealth in fair-minded, ecologically respectful ways.
For example, new initiatives are bringing "open source" seed-sharing to agriculture, defying the proprietary schemes that Big Ag companies have devised to enclose the seed commons (chapter by Maywa Montenegro Wit). Another chapter explains the promise of blockchain ledger technologies in enabling networked collaboration (Primavera De Filippi and Xavier Lavayssiere) – an advance that could enable new, more versatile modes of commoning in online spaces.
My contribution to the volume looks at the importance of legal hacks as a way to overcome conventional law and open up new zones for commoning. Legal workarounds are necessary because "the practices and values [of commoning] are philosophically alien to many aspects of the liberal market and state and their mutual focus on individualism, calculative rationality, material gain, and market growth."
I explore the tension between commoning and state law, and showcase some clever, elegant legal hacks, such as Creative Commons licenses for all sorts of content and the General Public License for software. Such hacks invert the intended uses of conventional law (by requiring sharing, for example), while retaining the enforcement powers of state law.
Three essays delve into the philosophical dimensions of commoning -- by Anna Grear, Vito de Lucia, and Paul B. Hartzog, respectively – to probe ontological shift that must be advanced if our human societies are going to find a responsible (and enlivening!) coexistence with the more-than-human world. These chapters provide some valuable big-picture perspective that move us beyond the grubby political and economic realities of the moment.
Here are the contents of the book:
        1. INTRODUCTION / Anna Grear and David Bollier 
        2. MODERNITY, ANTHROPOCENE, CAPITALOCENE AND THE CLIMATE CRISIS / Sam Adelman
       3. TWILIGHT OF THE NATION-STATE (AT A TIME OF RESURGENT NATIONALISM)? / Richard Falk 
THE DECLINE OF LIBERAL POLITICS / Andreas Karitzis
AWAKENING TO AN ECOLOGY OF THE COMMONS / Michel Bauwens and Jose Ramos
BEATING THE BOUNDS: INSIDE THE STRUGGLE TO MAKE OPEN-SOURCE SEED / Maywa Montenegro de Wit
BLOCKCHAIN TECHNOLOGY: TOWARD A DECENTRALIZED GOVERNANCE OF DIGITAL PLATFORMS? / Primavera De Filippi and Xavier Lavayssiere 
HACKING THE LAW TO OPEN UP ZONES FOR COMMONING / David Bollier 
THINKING LAW, ECOLOGY, AND THE COMMONS / Vito De Lucia 
COMMONSWEALTH: THE DIFFERENCE ENGINE: COMPLEXITY AND GENERATIVITY—NEW ONTOLOGICAL FOUNDATIONS / Paul B. Hartzog 
RESISTING ANTHROPOCENE NEOLIBERALISM: TOWARDS NEW MATERIALIST COMMONING? / Anna Grear
A word of thanks to punctum books, one of the most important yet little-known experiments in open-access book publishing around. Many of us commoners are supremely frustrated that academic publishing is so corporatized and disdainful of their contributors and readers. It's insane that so much academic knowledge must fit through the commercial filters of Edward Elgar, Sage, John Wiley, and Routledge, who not only acquire their manuscripts for free or very little, but then turn around and sell them to university libraries, at exorbitant prices that ordinary readers cannot afford.
For example, I recently encountered the announcement of a forthcoming book, Capitalism and the Commons, that I would very much like to read. To my dismay, the book is priced at a ridiculous $128. I realize that, for many academics, career advancement depends on publishing with the most "prestigious" publishers – and sometimes those publishers are the most efficient way to reach one's academic peers. But it doesn't advance the cause of the commons to speak to a mandarin cohort of cloistered academics through profit-driven publishers who both exploit their contributors (who were likely not paid for their essays) and readers (who can't afford the retail prices). Academics would do well to rebuff the leading publishers – and counter-organize by starting their own upstart presses. That would be a fine commentary on capitalism and the commons.
This is why I admire punctum books (whose tagline is "spontaneous acts of scholarly combustion") -- it's doing something about this problem by publishing high-quality academic books under Creative Commons licenses. This allows books to be published for a modest sum (our book is US$25) while making a PDF version available online for free.
Although some academic presses are starting to experiment with CC licenses, most politically progressive book publishers find this idea way too radical. Nonmarket ways of sharing are simply unimaginable. (Let me give a spirited shout-out to New Society Publishers, which had no trouble publishing Silke Helfrich's and my Free, Fair and Alive under a CC license.)
As Lauren Berlant, an English professor at the University of Chicago, has said: "The release of art and knowledge from enclosure and hoarding into spirited circulation is punctum books' great work. It is not just that punctum books refuses to reproduce class inequality by making our work free to the desiring. It is also that it is radically open to collaborative, dynamic, rigorous experiments in genre and thought's forms."
New modes of life amidst capitalist ruins!