To glimpse an inspiring vision of farming in a post-capitalist environment – one that is in communion with the Earth and its aliveness – look no further than Soul Fire Farm in the Hudson Valley of New York. The 80-acre farm, run by a remarkable Afro-Indigenous-centered community, has pioneered a socially minded agriculture dedicated to regenerating the land and empowering African-Americans and Indigenous cultures. It's a vehicle for training new farmers, feeding people who don't have access to healthy food, and "rabble-rousing for systems change."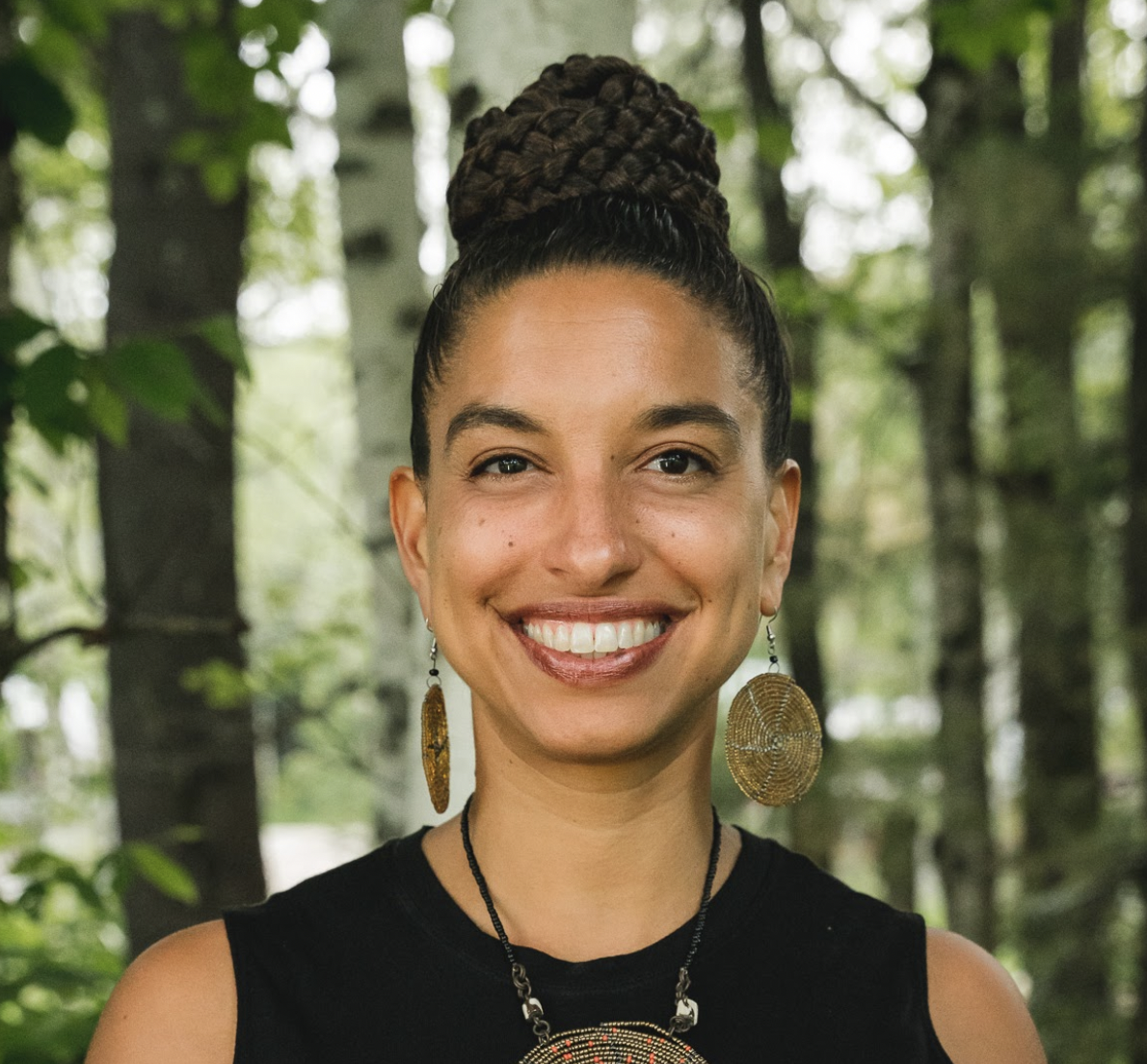 Leah Penniman, a Black Kreyol activist-farmer, cofounded Soul Fire Farm in 2010.  She described her journey from science teacher to farmer in her 2018 book Farming While Black -- a manifesto and practical guide to "liberation on the land."  Now Penniman moves beyond some of the practical "how to" issues of farming to explore the cultural and spiritual wisdom that has sustained African American agriculture for generations.   
Her new book, Black Earth Wisdom, describes itself as "love songs for the earth and its people."  It consists of sixteen captivating conversations between noted Black elders in a variety of fields, including author Alice Walker, ornithologist J. Drew Lanham, attorney Savi Horne, farmer Chris Bolden-Newsome, and musician Toshi Reagon, among many others. 
The book showcases the history of African-American farming, including struggles for land tenure in the face of land theft, and the distinctive wisdom of Black agricultural science, spiritual traditions, folk practices, art, and culture.The overarching point is that our spiritual lives and the fate of the earth are intertwined. Sections of the book deal with our "ecological crisis as a spiritual plight"; the relationship between Black people and open space; the importance of and tenure and agrarianism; the pain of environmental racism and capitalism's assault on our land and waters; and the role of artists, writers and storytellers in bringing ecological truth to light. 
To learn more about these ideas, I interviewed Penniman for my latest episode of Frontiers of Commoning (Episode #38). Penniman is a buoyant. irrepressible force of nature herself who offers many refreshing perspectives on American African agriculture and environmentalism.   
She notes that, while European-influenced naturalists like John Muir, Henry David Thoreau, and Rachel Carson dominate the canon of American environmentalism, there is another large cohort of land protectors, activists, and artists who deserve attention. These include enslaved herbalists, seed-savers, and the Negro 4-H Wildlife Conservation Camps as well as Ifa priests, musicians, and poets. In Black Earth Wisdom, Toi Scott and adrienne maree brown talk about queerness inherent in the natural world, and agricultural scientist and inventor George Washington Carver explains how his Christian faith and mysticism informed his research.     
Albert Einstein called Carver "one of the great minds of the [20th] century" for his pioneering work in crop-rotation techniques, soil regeneration, the use of nitrogen-fixing legumes, and discoveries leading to thousands of patents. Carver attributed much of his success to his mystical relationship with nature, as developed during pre-dawn prayer sessions in the forest: 
"I love to think of nature as unlimited broadcasting stations, through which God speaks to us every day, every hour . . . How do I talk to a little flower? Through it I talk to the Infinite. And what is the Infinite? It is that silent, small force…. that still small voice." Carver said, "Reading about nature is fine, but if a person walks in the woods and listens carefully, he can learn more than what is in books, for they speak with the voice of God."
Penniman channels her own spiritual sensibilities in this book. She describes how, as a young girl, she spent endless hours in the swamp and forest among plants and animals. She considered herself an "earth-listener" raised with deeply ecumenical sensibilities. Both of her parents were Unitarian-Universalist preachers; she converted to Judaism when she married a Jewish spouse; and she became a student of Buddhism along the way. Penniman also spent many years training as a clergy member in the earth-based traditional religions of Yoruba and Vodun. 
During an Ifa initiation ceremony in 2020, Penniman says she had a dream vision that prompted her to write Black Earth Wisdom. In her dream vision, she recalled, "All of the forest animals crowded into my home. The deer, hawk, snapping turtle, coyote, barred owl, black bear, and hummingbird moth surrounded me and asked me why I had forgotten the covenant of my childhood—why I was not listening to them anymore. They spoke the truth. In my focus on educating the rising generation of Black and Brown farmers, I was paying less and less attention to the voices and needs of wild creatures. They told me to write a book that centers the narratives of those who remember how to listen to the earth."
This book, then, is about a diverse and largely neglected cast of African American and Indigenous elders who suggest that listening to the earth is still urgenty needed.  You can find my podcast interview with Leah Penniman here. A transcript of the conversation can be found here. A big thanks to Gane Ryan Duenas for the transcript!