Here's a fanciful but almost-real scenario: the bees, squirrels, geese, bugs, trees, and other species of your local park have decided that they've had enough of human aggression and abuse. They're not going to take it anymore, and rise up and demand equal rights with humans. Through a series of interspecies assemblies, a treaty is negotiated to ensure that every living being in the local ecosystem can flourish.
This scenario is a "live action role-playing" (LARP) game devised by Furtherfield, a London-based arts collective as part of its stewardship of part of the Victorian-era Finsbury Park. Over the next three years, Furtherfield is inviting humans to don masks and play the roles of each of seven species in negotiating "The Treaty of Finsbury Park 2025" -- the name of the project.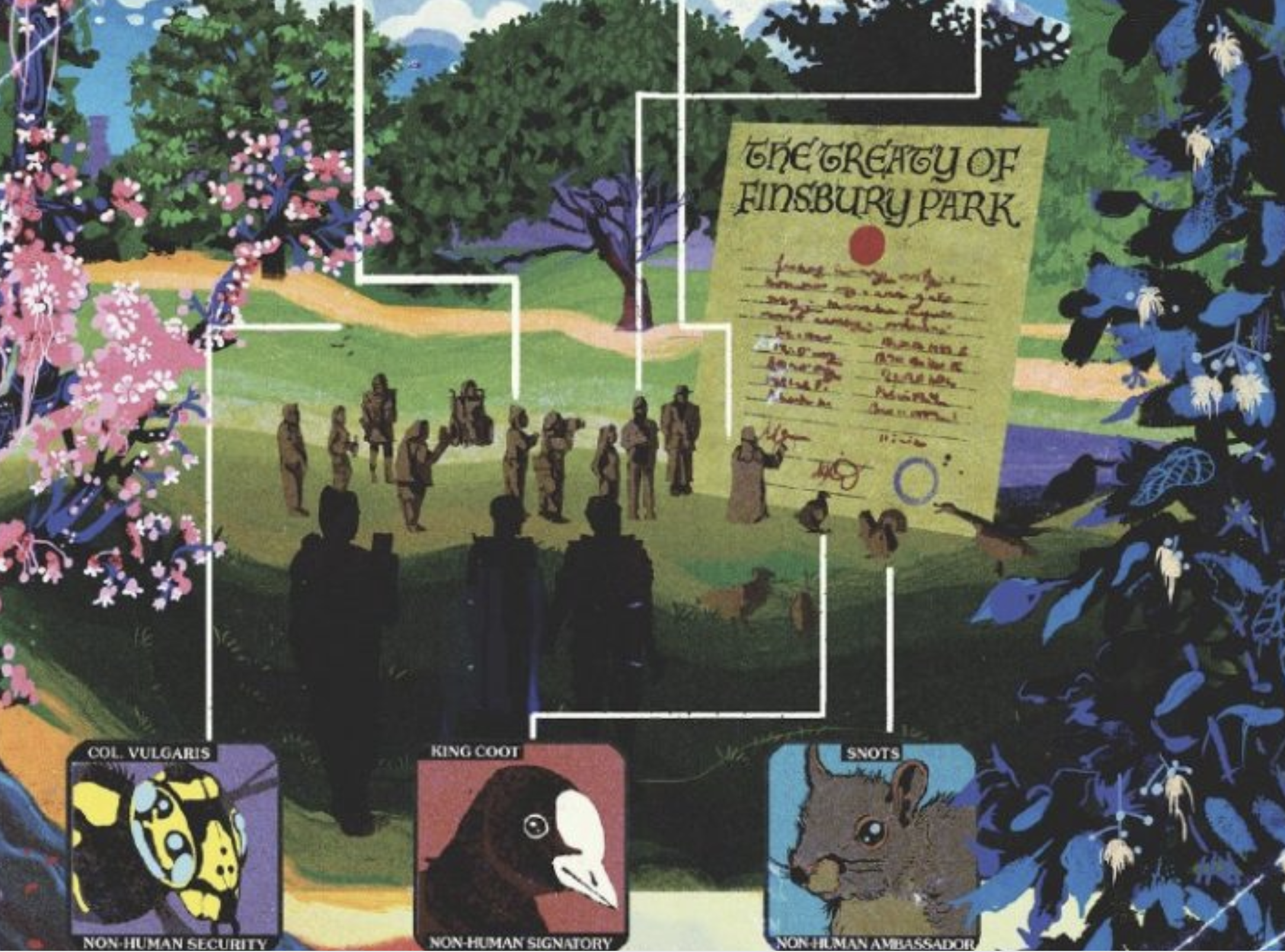 By casting humans as beetles and squirrels attending Interspecies Assemblies as delegates of their species, the LARP aims to help people develop "empathic pathways to nonhuman lifeforms through play." There is even a Sentience Dial to help different species communicate with each other. Who knows, this process may actually make Finsbury Park a more lush and lively place?
This adventure in animism is just one project that Furtherfield has hosted over the past 25 years, most of which blend art, digital technologies, and social action in some creative fashion. In my latest Frontier of Commoning podcast (Episode #24), I speak with Ruth Catlow about Furtherfield's distinctive approach to participatory art as a way of thinking anew about the world.
Catlow, an artist, curator, and co-leader of Furtherfield, has been a guiding visionary for its many artistic projects since its inception in 1996. She helps orchestrate collaborations with various local, national and international partners -- but especially with ordinary people. The point of its many artworks and technology projects is to try to get us to see the world differently, and to honor the role of art in envisioning new futures for ourselves.
Most of Furtherfield's projects take place in its green space and gallery in Finsbury Park, London, and in various digital spaces that bring together artists, techies and activists. Local officials have invited Furtherfield to use the park as a participatory canvas for its artistic projects. Traditionalists might call the group an arts center, but Furtherfield playfully calls itself a "de-center" because its work is so outward-looking and network based.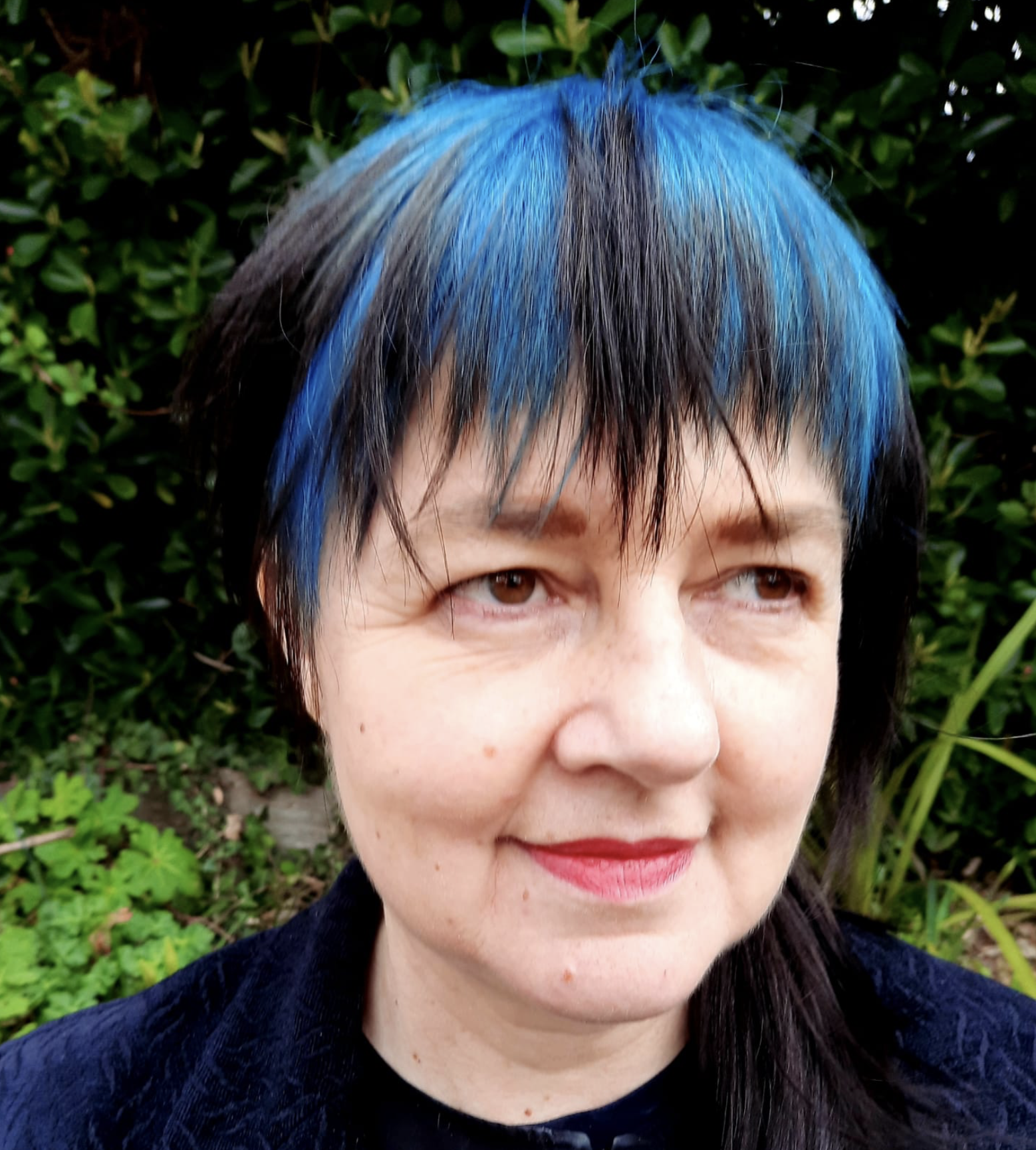 Furtherfield sees itself is a convenor of artistic experiments that engage people in clever, provocative, and playful ways. The explorations are deeply rooted in open source technologies and philosophies while striving to -- in Furtherfield's words -- "disrupt and democratize existing hegemonies" and "re-landscape the terrain."
For example, when countless Black Lives Matter protests were rocking the US and cities around the world, many people began to question why slaveholder-businessmen and military generals were honored with bronze statues in public parks. Furtherfield decided to open up a public conversation about who or what should instead be celebrated atop pedastals in the park.
The People's Park Plinth project invited artists to propose new people or things to be honored in the park. The medium for this conversation was the smartphone. People strolling in the park could scan QR codes affixed to trees or pedestals, and instantly watch a video about the spot in the park. In effect, the scheme turned "the entire park into a platform for public digital artworks [that] asks you to pick the one you want for your park," as the project described itself.
Anyone could vote on a number of proposed artworks. The one that won -- 'Based on a Tree Story,' by Ayesha Tan Jones -- won was an artwork that used QR codes on a tree to summon a video of the the tree sprite who lived there.  ("A site specific, sonic augmented reality encounter with a digital tree sprite that tells tales of the tree's past, present and future.")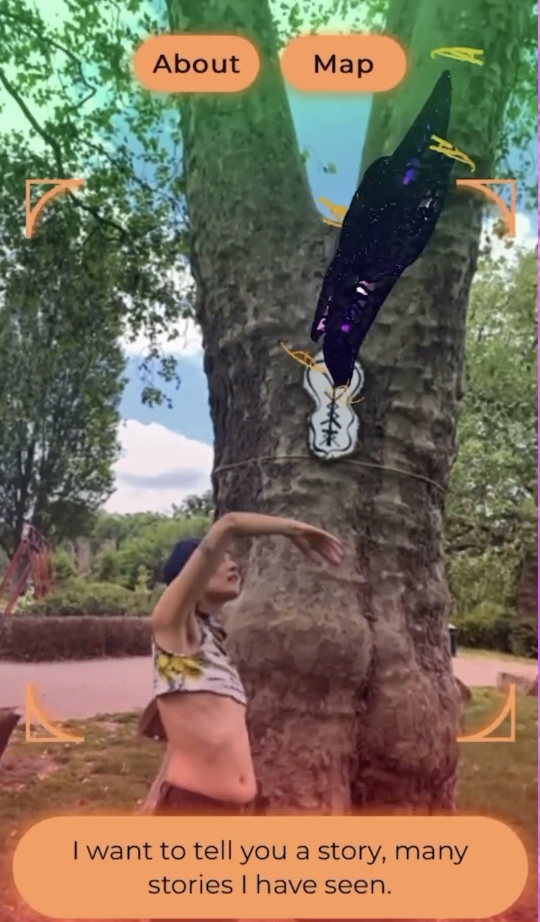 The public voting for the artworks was itself quite novel. Rather than tallying just one vote per person for the preferred artwork, each participant was given a number of votes that could be spread among as many artworks as they wished. This scheme, called "quadratic voting," doesn't just calculate which project gets a majority of votes, but rather indicates which ones people feel most passionate about. The system is meant to overcome the "tyranny of the majority" problem that overrides minority voices, and cases in which strong factions act as spoilers.
One of Furtherfield's more intriguing roles has been to host a laboratory and series of debates among artists and techies about how blockchain software could help reinvent the arts in an age of networks. The point was to explore how the cultural sector could develop "pathways to peer-produced decentralised digital infrastructures for art, culture and society – in particular through Decentralised Autonomous Organisations (DAOs)...." 
Furtherfield has wanted "to end gatekeeping and elitism in the artworld" and "bring this spirit of deep and radical friendship as a way to build resilient and mutable systems for scale-free interdependence and mutual aid." But it also wanted to move beyond the libertarian individualism that animates so many DAOs in the tech sector. 
Two books have resulted from Furtherfield's convenings: Artists RE:thinking the Blockchain (2017), about critical artistic engagement with blockchain; and Radical Friends, an anthology to be published in May 2022 about the hazards of digital autonomous organizations (DAOs) in the art world and commons-based DAO alternatives. (Furtherfield's alternative goes by the acronym DAOW, which stands for "DAOs with Others.")
You can listen to the podcast conversation with Ruth Catlow here.