On the latest episode of my Frontiers of Commoning podcast (Episode #23), I speak with Sara Arnold and Sandra Niessen, two leading activists who are boldly calling for "a radical defashion future" based on degrowth, commoning, and clothing cultures that escape consumerism.  
Through the organization Fashion Act Now, a growing band of dissident fashionistas want to make the clothing industry more ecologically responsible, relocalized, and culturally in sync with this moment in history, especially with respect to climate change, economic justice, and decolonialization. This means greatly reducing the industry's resource and energy use, and moving away from hyper-consumerist "fast fashion" business models that generate colossal waste and ecological harm.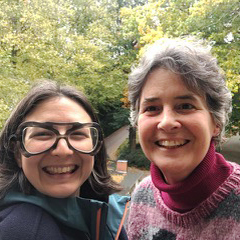 My podcast interview with Arnold and Niessen is a spirited, often surprising conversation. It's not often that I've heard the words "fashion," "biodiversity" and system-change" uttered in the same sentence.
British fashion designer Sara Arnold started her career by launching a clothing rental platform, Higher Studio. Her idea was to incentivize a more environmentally sensitive "circular economy" in clothing by promoting rentals and re-use over consumption.
Sounds good, but she soon realized that her business  was actually helping to expand the market for clothing. Moreover, she saw that there are many larger environmental and climate problems that the fashion industry is largely ignoring.
So Arnold joined Extinction Rebellion to organize its #BoycottFashion and Cancel Fashion Week campaigns. Taking things further, in 2020 she co-founded Fashion Act Now as a campaign organization for defashion -- a term she coined to describe deep, systemic shifts in the industry that can address climate change and respect planetary limits.