I offered the following remarks at the First Annual Schumacher Lecture, at Plaats de Kleine Aarde, a community land trust in Boxtel, Netherlands, on September 14, 2023. The event was convened to explore the launch of a new organization, Schumacher Lab Netherlands.
I wish to thank the organizers of this event – Natasha Hulst, Shinta Oosterwaal, Reinout Wissenburg – and de Kleine Aaarde, for bringing us all together on this special occasion to celebrate the 50th anniversary of the book Small is Beautiful. And for Susan Witt's steadfast stewardship of the Schumacher legacy at the Schumacher Center for a New Economics over the past 43 years!
The global impact of Small is Beautiful, written in 1973 by E.F. "Fritz" Schumacher, continues to reverberate. Why?  Because it had the audacity to critique economics from the perspective of a well-lived life.  It offered an honest measure of standard economics and the society it had produced, and declared it sorely deficient and outrageous.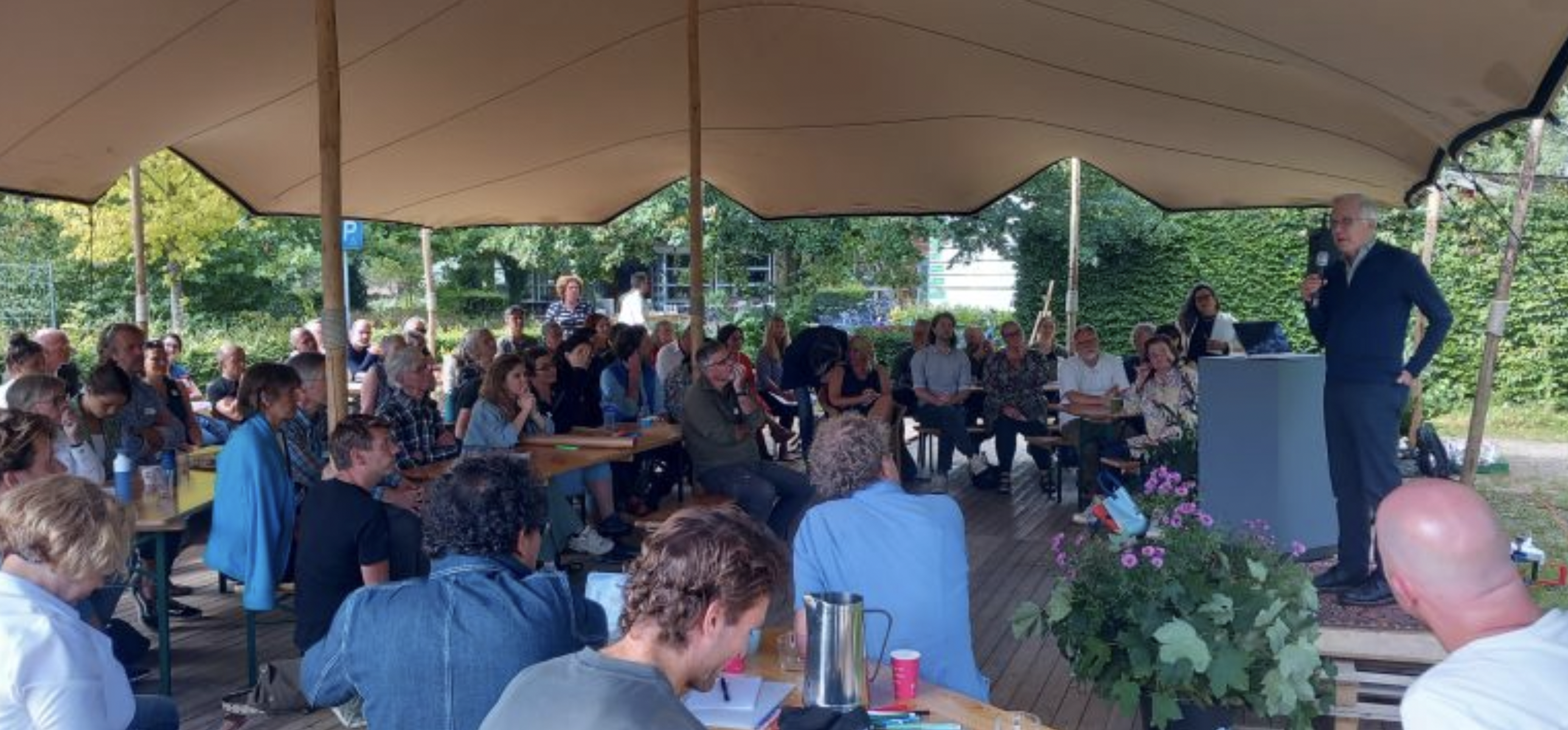 Both the premises of economics and the institutions they engendered were called out for being grotesquely large, rigid and inefficient, ecologically harmful, and anti-democratic. Instead, here was a brave and brilliant renegade calling for an economics that honored "the organic, the gentle, the elegant and beautiful." He even included a chapter on the idea of Buddhist economics! He openly celebrated the actual experience of life over the desiccated theories of the discipline, saying, "An ounce of practice is generally worth more than a ton of theory."
This sort of wisdom has profoundly inspired people for decades. It gave hope that a more humane, eco-friendly future could be credibly pursued. Then this window of fresh air was abruptly slammed shut.  The arrival of Ronald Reagan, Margaret Thatcher, and the power-surge of neoliberal capitalism in the 1980s forced the small-is-beautiful ethic to the margins, as a ruthless market/state system aggressively pursued environmental deregulation, austerity budgets, corporate subsidies, growth-driven energy policies, globally integrated commerce, and capitalist power over democracy. The promise of the 1970s was put on ice. You could say that, politically and culturally, we are only just now emerging from the fantasies that neoliberal capitalism imposed on the world for the past forty years.
And so we convene on the fiftieth anniversary of Small is Beautiful. How best to commemorate this landmark book?  I believe the most significant homage we can pay is to this book is to make his vision real in our time.  Fortunately, this is exactly why this event has been convened.  This gathering is an invitation to help imagine, and build, a new vision for our troubled, some would say doomed, world. This event is about creating a new organization – and catalyzing a larger movement – that could help enact a more place-based economy aligned with living ecosystems and social need.