I don't normally post long essays, but I want to share this terrific piece by Maywa Montenegro de Wit on the struggle to create a socio-legal class of seeds can be shared.This mode of seed usage prevailed throughout most of history, of course, but as major ag-biotech corporations have aggressively pushed proprietary and genetically modified seed, seed-sharing and breeding among farmers has become marginalized and sometimes illegal. This has made farmers more dependent on expensive seeds and industrial farming techniques with harmful ecological impacts. It has also discouraged traditional agricultural practices that work with nature in which seed is shared and improved upon through commoning.
Montenegro is an assistant professor in the Environmental Studies Department at the University of California-Santa Cruz. Her work draws on political ecology, science and technology studies, and rural sociology to address issues of seed diversity and access to it.
This essay appeared in the recently published anthology, The Great Awakening: New Modes of Life amidst Capitalist Ruins, which I co-edited with Cardiff University professor Anna Grear. More about the book at Punctum Books, which published the collection of essays under a Creative Commons Attribution-ShareAlike license, with both print and PDF versions available.
1. Introduction
C.R. Lawn knows what primitive accumulation feels like.[1] As founder of the Fedco Seeds cooperative, he saw fungicide treatments become ubiquitous in the 1980s, and decided to stop sell- ing seeds laced with the hazardous chemicals. In the 1990s, as GMOs came online, he placed a moratorium on the technology out of concern for unknown risks. Nine years later, when Monsanto bought out Seminis — Fedco's largest supplier of vegetable seeds — Fedco began boycotting the company because, as Lawn explains, "we could not in good conscience sell their varieties." The chemicals, the GMOs, and the patents, Lawn says, are part of a broader phenomenon: "We have privatized our common wealth in the hands of the few at the expense of the common good."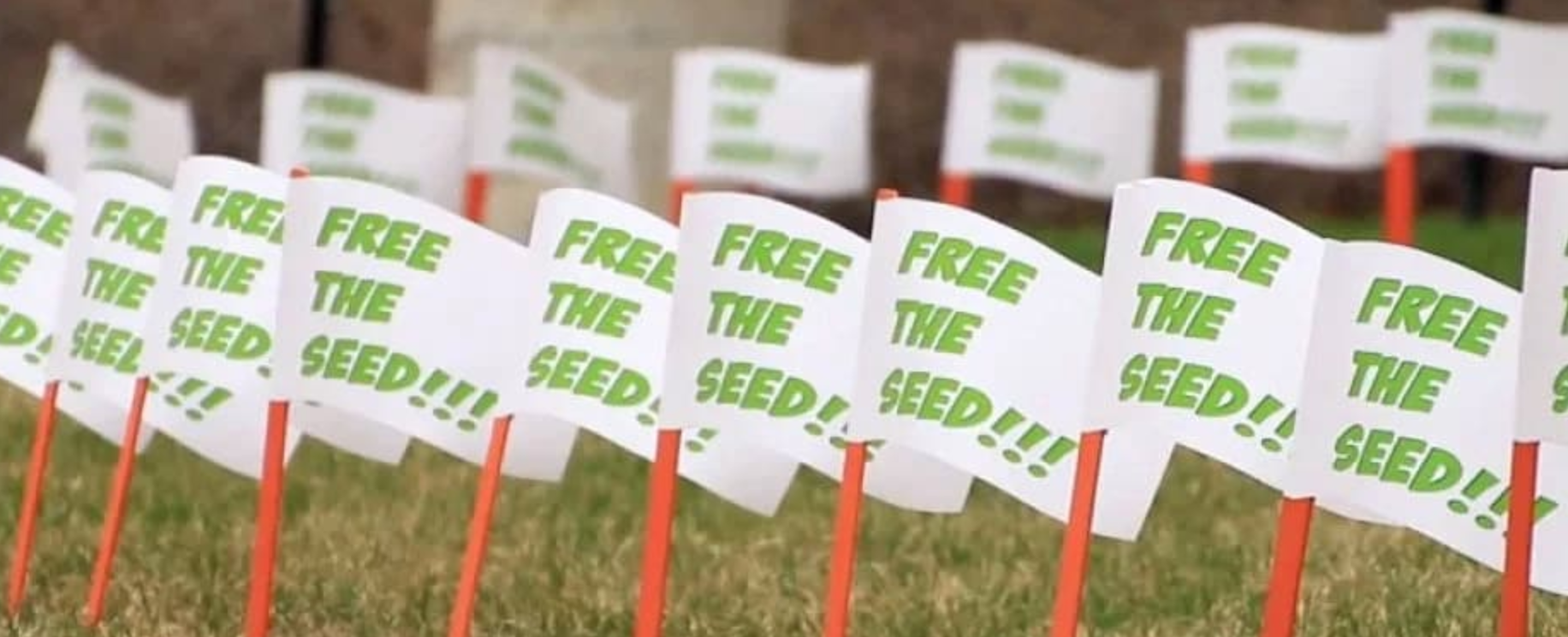 C.R. Lawn and his Fedco growers and packers are not alone in these deliberate rejections of seed enclosures. They are part of a movement gaining traction in many parts of the world, Global North and South, that refuses to adopt the dominant wisdom: that agrobiodiversity is best managed as private property; that breeding innovation will not occur in the absence of patents, variety protections, and other intellectual property (IP) rights; and that "improved seeds" result from individual ingenuity, rather than from collective knowledge, gleaned in and through experience with the land. From India to Peru, France to the Philippines, social movements are now advancing a bold discourse of seed freedom, seeking to reclaim what has been appropriated, privatized, and separated from the everyday and practical experience of farmers and farmer-breeders.
This chapter traces a novel expression of seed freedom that emerges from something old: the concept of a "commons." Conventionally defined as social or natural resources not owned by anyone, but over which a community has shared and equal rights, the commons go back many centuries in agrarian history, their enclosures marking a crucial juncture in the transition from feudalism to capitalism.[2] I add to the burgeoning new commons literature by looking at commons as a biocultural form, specifically in relation to seeds. Scholarly emphasis to date has been primarily on rules and institutions of resource management, following the principles of a well-governed commons.[3] My argument is that seeds turn our attention to the politics and practices of access to means of reproduction. We consider how community rules, values, and practices of making new seed varieties — or plant breeding — are at once driven and shaped by a larger political economic order. We explore how seed diversity is gained and/or lost through histories of legal, scientific, and biological enclosure.
Following recent contributions to commons scholarship, I emphasize commons as a living, dynamic field of practice — not simply a resource divided amongst people, but a social transformation developed in and through the practices of commoning.[4] Moving from noun to verb, this formulation also puts greater emphasis on the people and communities intrinsic to the commons — not just on the seed, but on farmers, seed savers, and plant breeders.